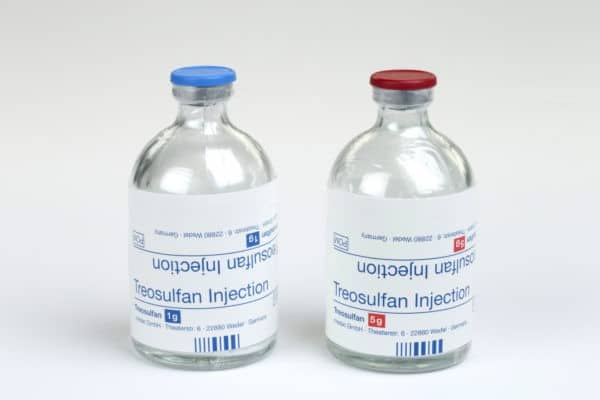 Shares of specialty pharma name Medexus Pharmaceuticals (Medexus Pharmaceuticals Stock Quote, Charts, News, Analysts, Financials TSX:MDP) went through the floor on Monday after the company announced another snag in the planned North American launch of one of its licensed drugs. 
The development was enough for Raymond James analyst Rahul Sarugaser to pull back on the reins regarding his recommendation of the stock. In a Monday update to clients, Sarugaser moved his rating on Medexus from "Outperform 2" to "Market Perform 3," saying a lot of the potential upside for the stock depends on gaining FDA approval for stem cell transplant drug treosulfan.
Medexus, which focuses on commercializing rare disease treatments in areas such as hematology, auto-immune diseases and allergy, announced on Monday that the US Federal Drug Administration had issued a second notice of incomplete response to private company medac GmbH on treosulfan. The notice calls for further information rather than asking for further clinical data, and it comes roughly two months after medec, which has licensed the US and Canada rights to treosulfan to Medexus, resubmitted a New Drug Application (NDA) for treosulfan to the FDA in late July. 
Medexus said it's evaluating the potential impact of the delay on its business and the planned-for commercial launch of treosulfan.
"While we recognize that the FDA's response timeline has proven longer than anticipated, we are encouraged to see that the Agency remains engaged with medac to find a path towards resubmission," said Ken d'Entremont, Medexus CEO, in a press release. 
"We continue to seek opportunities to collaborate with medac to the extent permitted by our license agreement in order to support medac in satisfying the FDA's requests and in upholding their responsibility for treosulfan regulatory matters," he said.
Medexus shares fell almost 33 per cent in trading on Monday, with a further 15 per cent drop in early trading on Tuesday. 
Commenting on the new announcement, Sarugaser said the additional information requested by the FDA appears to relate to medac's completed clinical trial, which was published last month in the American Journal of Hematology. Sarugaser said the FDA is likely looking at the pivotal trial's efficacy data, which showed treosulfan to be superior on primary and secondary endpoints compared to the standard pre-transplant therapy involving RIC busulfan.
But with the delay, Sarugaser has pushed out his revenue estimates for Medexus and the projected launch of treosulfan, now estimated at 2024, and also discounted the probability of FDA clearance to 25 per cent from 50 per cent. The end result is a trim of his 12-month target price to $2.00 compared to the previous $4.50 per share.
Sarugaser said the uncertainty around the timelines for treosulfan are cause for his rating change.
"MDP's baseline business is performing well and we are particularly encouraged by MDP's impending +CF turn on the back of U.S. Gleolan sales. This said, the material upside we had previously calculated was driven almost exclusively by impending treo FDA clearance and sales; until we gain more clarity on treo's fate, we take a much more conservative view, and do not yet account for any adjustments in the company's cost structure," Sarugaser wrote.
At the time of publication, Sarugaser's new $2.00 target represented a projected one-year return of 60 per cent.
Medexus' current catalogue includes lead products hemophilia drug IXINITY, the methotrexate auto-pen Rasuvo and pre-filled syringe Metoject, allergy med Rupall and Gleolan, an optical glioma imaging agent. 
The company last reported its financials in early August where its first quarter fiscal 2023 featured record revenue of $23.0 million, a 33 per cent year-over-year increase and up 13 per cent from the previous quarter. (All financial figures in US dollars.) 
Net sales of IXINITY and recognition of a portion of revenue from US sales of Gleolan helped generate the topline increase, the company said. Medexus acquired the exclusive rights to commercialize Gleolan in the US in March of this year.
Adjusted EBITDA for the quarter was $1.9 million compared to negative $4.9 million a year earlier and positive $1.1 million for the previous quarter. Medexus said organic revenue growth along with a reduction in R&D expenses helped with the jump in earnings.
"We are proud to announce the strongest fiscal Q1 in our company's history driven by a strong base business and complemented by initial revenues generated through our license agreement for Gleolan in the US," d'Entremont said in a press release.
"We anticipate completing our transition to full commercial responsibility for Gleolan within the current quarter and will begin to report Gleolan net sales in our revenues starting at that time. So far Gleolan sales have performed to our expectations, and we are excited about Gleolan's contribution to growing our revenues over the coming quarters," he said.
We Hate Paywalls Too!
At Cantech Letter we prize independent journalism like you do. And we don't care for paywalls and popups and all that noise That's why we need your support. If you value getting your daily information from the experts, won't you help us? No donation is too small.
Make a one-time or recurring donation