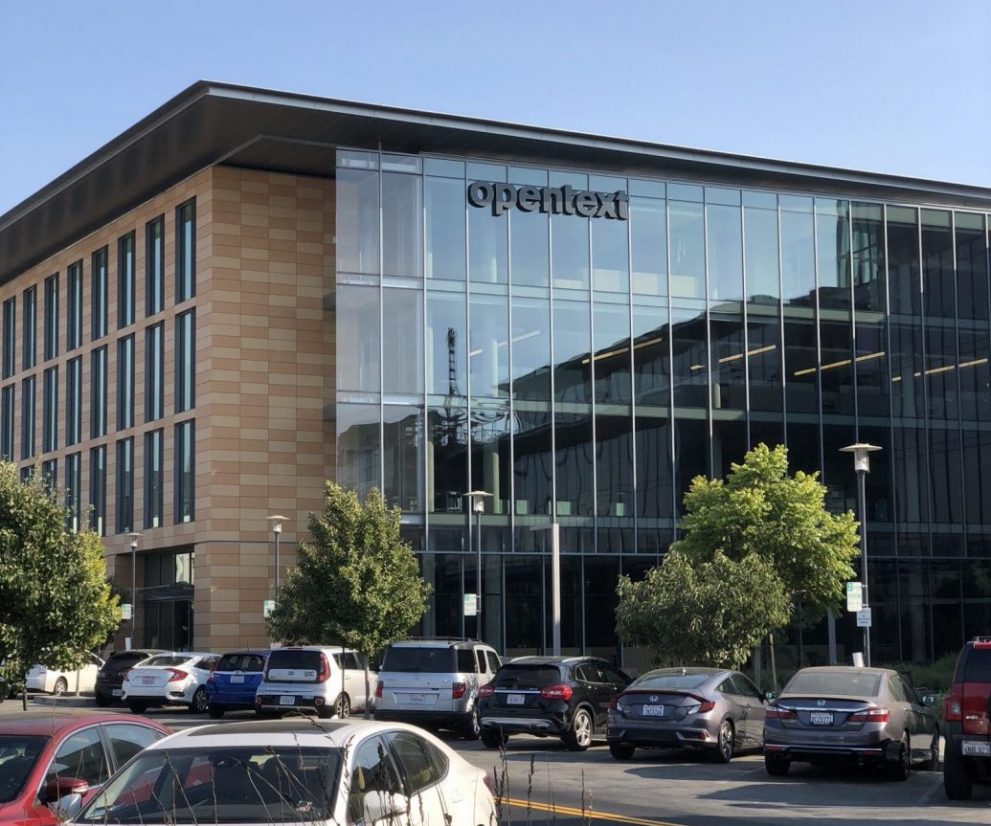 National Bank of Canada analyst Richard Tse thinks investors will like the defensive characteristics of Canadian software company OpenText (OpenText Stock Quote, Chart, News, Analysts, Financials TSX:OTEX). In an update to clients on Thursday, Tse maintained an "Outperform" rating and target price of $60/share for an estimated return of 30.9 per cent.
Founded in 1991 and headquartered in Waterloo, Ont., OpenText designs, develops, markets and sells information management software and solutions, primarily competing in the Enterprise Information Management (EIM) space.
Tse's latest analysis comes after OpenText reported its financial results for the second quarter of its 2022 fiscal year, which Tse noted to be in line with expectations.
"In our view, the quarter continued to highlight OpenText's defensive attributes," Tse said. "We think that's positive in a market that's favouring profitability and cash flow when it comes to tech stocks."
OpenText's quarterly reports were headlined by $876.8 million in revenue in the quarter, relatively in line with the $871 million projected by both National Bank and the consensus and marking a 2.5 per cent year-over-year increase, up to 2.7 per cent on a constant currency basis. (All figures in this article in US dollars except where noted otherwise.)
Cloud services again proved to be OpenText's biggest revenue driver at $364.9 million in the quarter, a 4.1 per cent year-over-year increase while accounting for 41.6 per cent of the company's revenue mix. Meanwhile, license revenue produced a beat at $109.5 million, a two per cent year-over-year increase and 12.5 per cent of the revenue mix.
OpenText also outperformed expectations pertaining to adjusted EBITDA, reporting $343.5 million in the quarter to come out ahead of the National Bank estimate of $337.1 million and produce a 39.2 per cent margin, ahead of the National Bank expectation of a 38.7 per cent margin. The results also helped the company produce $216.6 million in cash flow from operations and $206 million in free cash flow, one of the defensive characteristics Tse highlighted in his analysis.
Most recently, OpenText expanded its strategic partnership with Google Cloud, launching its OpenText Core Content as a service on Google Cloud, which will allow customers to use OpenText's productivity suite on a global infrastructure.
Furthermore, the two companies will partner to deliver new capabilities to users, utilizing Google Cloud capabilities in secure software supply chains, SRE toolsets and DevOps best practices for delivering a next-generation, cloud-native productivity platform.
"Distributed work is here to stay and organizations must ensure they have the right technology, information and processes in place to deliver on employee and customer expectations," said Mark Barrenechea, CEO & CTO at OpenText in the company's February 3 press release. "To meet and exceed those expectations, we are excited to build the next generation OpenText platform on Google Cloud. Our long-standing, strong partnership with Google Cloud, and our proven track record of industry-leading co-innovations will help us support customers' hybrid work needs today and into the future."
The new quarterly results have prompted Tse to make minimal revisions to his financial projections, lowering his third quarter revenue estimate from $886 million to $874 million and also lowering his adjusted EBITDA projection for the upcoming quarter from $321 million to $277 million.
Tse's overall revenue projection for 2022 inches up to $3.53 billion from $3.528 billion for implied year-over-year growth of 4.3 per cent, followed by a small uptick from $3.72 billion to $3.77 billion in 2023, projecting a year-over-year increase of 6.7 per cent.
With the subtle increases, Tse projects a slight decrease in the EV/Sales multiple over the same period, forecasting a drop from 4.5x in 2021 to 4.4x in 2022, then to 4.1x in 2023.
Meanwhile, Tse slightly lowered his adjusted EBITDA projection for 2022 from $1.33 billion to $1.29 billion for an implied margin of 36.4 per cent, while he raised his 2023 projection from $1.396 billion to $1.41 billion, forecasting a margin of 37.4 per cent.
Accordingly, Tse projects the EV/EBITDA multiple to slightly increase from 11.7x in 2021 to a forecasted 12x in 2022, then dropping again to a projected 11x in 2023.
Overall, Tse sees OpenText continuing to consistently build its value moving forward.
"Bottom line, OTEX remains one of our favourite 'legacy' names," Tse said. "With the market sentiment favouring profitability and cash flow, OTEX offers those compelling defensive attributes. We see a growing base of recurring revenue through opportunistic acquisitions, expanding operating leverage and optionality from organic growth that is not fully reflected in its current stock price."
OpenText's share price has dropped by 6.9 per cent on the Toronto Stock Exchange over the last 12 months, with a 4.8 per cent loss since the start of January. OpenText hit a 52-week peak of C$69.44/share on September 1, climbing from its 52-week low of C$55.03/share from May 13.
We Hate Paywalls Too!
At Cantech Letter we prize independent journalism like you do. And we don't care for paywalls and popups and all that noise That's why we need your support. If you value getting your daily information from the experts, won't you help us? No donation is too small.
Make a one-time or recurring donation