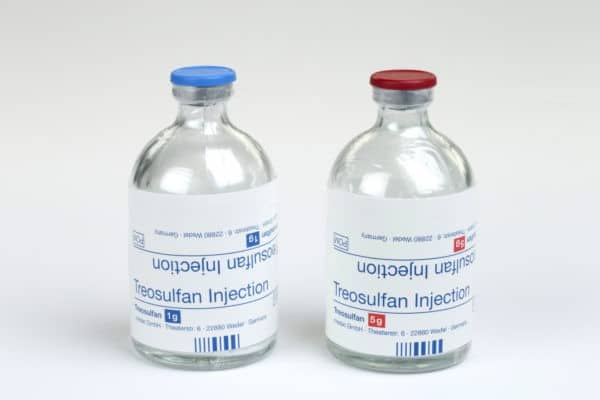 Research Capital Corporation analyst André Uddin has slightly shifted his stance on Medexus Pharmaceuticals (Medexus Pharmaceuticals Stock Quote, Chart, News, Financials, Analysts TSX:MDP), lowering his target price from C$9.00 per share to C$8.75 per share while maintaining a "Speculative Buy" rating and a projected return of 20 per cent in his latest analysis on Tuesday.
Montreal-based Medexus has a commercial platform marketed in both the US and Canada focusing on auto-immune diseases, hematology and allergies with lead products Rasuvo and Metoject, Ixinity and Rupall.
Uddin's adjustment comes after Medexus received a complete response letter (CPL) from the U.S. Food and Drug Administration (FDA) for its new drug application for Treosulfan, a medication given to people before they have a bone marrow transplant from a donor known as allogeneic hematopoietic stem cell transplantation.
While Uddin remains confident in the company's long-term growth prospects, his analysis deemed the adjustment necessary.
"We are slightly reducing our target price from C$9.00 to C$8.75 after slightly lowering our total revenue estimates across the board," he said. "Our valuation is based on a blend of: (i) applying a 2.9x EV/Sales multiple to our new FY22 total revenue estimate of $106.4 million discounted by 15 per cent and (ii) applying a 11.7x EV/EBITDA multiple to our new FY22 adj. EBITDA estimate of $16.9 million discounted by 15 per cent." (All figures in US dollars except where noted otherwise.)
Medexus in-licensed the American rights to Treosulfan from German pharmaceutical company medac in February after medac initially filed its new drug application in August 2020, which was supported by the results of a Phase 3 clinical trial with 570 subjects. However, the FDA requested additional clinical/statistical data and analyses pertaining to the primary and secondary endpoints of the Phase 3 trial, pushing back the timeline of the initial update from August 11 under the Prescription Drug User Fee Act (PDUFA), consequently pushing Uddin's assumed American launch of Treosulfan to 2023 from 2022.
Uddin said the CPL will be another hurdle for MDA to cover and called the event a negative for MDA while maintaining his optimism, saying,
"MDP and medac are reviewing the letter to determine the appropriate next step – it is unknown at this stage whether MDP/medac needs an additional trial. Treosulfan has the FDA's Orphan Drug designation and has been approved in Canada (2021) and Europe (2019). We still believe the candidate should eventually run across the finish line in the U.S. market despite a delay," Uddin wrote.
Speaking to the CPL, Medexus CEO Ken d'Entremont wrote in a press release, "Given the recent Health Canada approval, European Medicines Agency approval in 2019, as well as supporting data from more than 100 publications, we were all surprised by the FDA's response."
"That being said, Medexus and medac look forward to continuing to work with the FDA to address their requests in a timely manner, and we remain optimistic for a future, albeit delayed, approval of treosulfan in the United States, complete with Orphan Drug Designation. The current standard of care is not suitable for numerous at-risk groups, due to the high toxicity effects, and treosulfan has demonstrated excellent survival data among those groups. We are hopeful that our future communications with the FDA will result in a positive outcome, and we look forward to providing further updates in due course," d'Entremont said.
Coming off a 2021 fiscal year (ended March 31) where Medexus reported a 43.5 per cent year-over-year jump in revenues to $79.7 million, Uddin slightly downshifted his revenue targets with the Treosulfan delay, though the forecasts remain positive. Uddin still projects the company to hit nine-figure revenues in 2022, the $106.4 million estimate down slightly from the initial $106.7 million projection, though it would still represent a 33.5 per cent year-over-year increase. The growth projection forecasts to go steadily upward from there, although figures for 2023 ($122.5 million), 2024 ($141.8 million) and 2025 ($161.1 million) were all downshifted by 3 per cent from the original projections.
The company's adjusted EBITDA experienced more volatile changes in Uddin's updated analysis, dropping 2 per cent to $16.9 million for 2022, with a forecasted 8 per cent drop to $15.9 million in 2023 before rising to $29.4 million for 2024 (down from $29.7 million), then projecting to hit $40 million in 2025, a three per cent increase from Uddin's previous projections.
Key multiple projections show similar volatility, as Uddin projects the P/Revenue multiple to drop from the reported 1.9x in 2020 to 1.4x in 2021, eventually falling to 0.7x by 2025. Meanwhile, the P/EPS multiple is a bit more volatile, falling from a projected 59.9x in 2022 to a loss of $.01/share in 2023, then rebounding to projected multiples of 14.5x in 2024 and 7.9x in 2025.
Finally, the P/CFPS multiple has the most varied projections of all, with a forecast of 7.4x for 2021, then jumping to 10x and 15.8x for 2022 and 2023, then incurring another loss in 2024 before jumping back to 6.0x in 2025.
Medexus' share price suffered a big 45 per cent drop on Wednesday but rallied on Thursday, up 7.6 per cent. Year-to-date, the stock is now down 30 per cent.
We Hate Paywalls Too!
At Cantech Letter we prize independent journalism like you do. And we don't care for paywalls and popups and all that noise That's why we need your support. If you value getting your daily information from the experts, won't you help us? No donation is too small.
Make a one-time or recurring donation