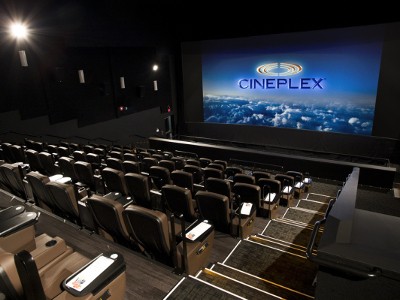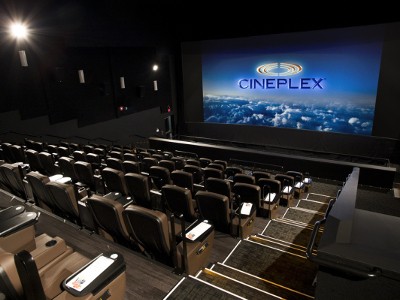 With its share price now hitting lows not seen in eight years, Cineplex (Cineplex Stock Quote, Chart, News TSX:CGX) is looking downright cheap, says Scotia Wealth fund manager Greg Newman, who thinks that the market selloff on the movie chain name has gone too far.
Is the movie business dead?
With more big-time streaming services coming online this month, the draw of the couch over the theatre seat seems stronger than ever, enough to raise serious doubts on the viability of companies like Cineplex. The entertainment company has witnessed continuing drop-offs in attendance numbers as patrons choose to put their popcorn money toward monthly subscriptions services like Netflix and now Disney+ and Apple TV+, both of which are debuting in November.
But don't count Cineplex out just yet.
The company has put in serious efforts to diversify its offerings, with results from digital advertising, gaming entertainment business the Rec Room and higher per-patron revenue all helping to supplement the declines at the box office.
Ahead of Cineplex's third quarter financial results due on November 14, the company hit a record high top line with its Q2, delivered in early August and featuring $439.2 million in revenue. Cineplex saw its media business climb by 21.5 per cent to $49.6 million, its amusement solutions segment grow by 16.8 per cent to $48.4 million and its Rec Room business grow by 33.4 per cent to $20.9 million.
"Reporting our second highest ever Q2 box office revenue, we also achieved second quarter records in all other revenue lines. Key accomplishments during the quarter included a 21.5 per cent increase in media revenue, primarily the result of robust showtime and pre-show advertising sales and higher digital place-based media project installations," said president and CEO Ellis Jacob in the quarterly press release.
At the same time, Cineplex saw a 1.7 per cent drop in overall attendance compared to a year earlier, another in a long string of declines that have investors worried. The concern has showed up in the stock's performance which has been abysmal over the past couple of years. Since a high of $54.81 in the summer of 2017, CGX has tumbled to $22.49 as of Friday's close, a 59-per-cent drop.
Newman says that the selloff could represent a buying opportunity, depending on how you feel about the future of the movie theatre.
"As much as they're trying to diversify their business, this is still really a box office play," says Newman, portfolio manager and senior wealth director at Scotia Wealth, in conversation with BNN Bloomberg on Friday. "It depends on the film slate, and they have to bring people in to sell concessions, so it's still really tethered to that."
"The stock on an EV/EBITDA basis is the cheapest it's been in a very long time. The dividend is very high — the payout ratio is very high for 2019 but we do estimate that for 2020 that it comes down quite a bit and goes back to a safer level," he says.
"Given our assumptions, we believe that the stock can grow from here. We think that they're going to turn around," he says. "If you're nervous on the name, maybe you can do some tax loss selling on it [but] I think that it's probably good value down here."