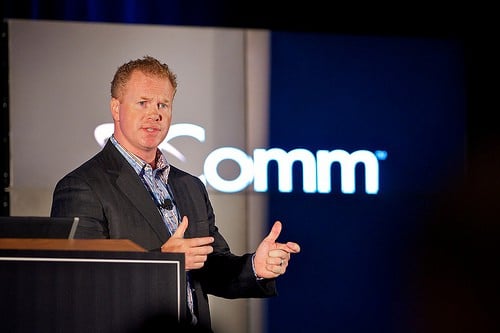 Take a cursory glance at Rogers (TSX:RCI.B) numbers, and you'd probably think all is well with the Canadian media and wireless giant.
In October, Rogers reported its third-quarter results, and with profit climbing nearly 30% to $491-million or 91 cents per share, up from $380-million or 66 cents per share the year prior, the company appeared rock solid. A closer look, however, reveals some serious cracks may be forming.
Rogers churn rate, a number that measures how many customers it is losing is, like most other wireless providers, rising. Rogers churn rate is now 1.73%. Better than rival Bell's, whose rate is over 2%, but high enough that Rogers CEO Nadir Mohamed was forced to address the matter on Rogers Q3 conference call.
But talk was clearly not all Rogers intended to do about losing wireless customers. In mid-December, the company revealed a solution that employs the help of a Vancouver softphone innovator Counterpath (TSX:CCV).
_____________________________________________________________________________________________________________
This story is brought to you Zecotek Photonics (TSXV:ZMS). As of November 16, 2011, Zecotek owned title to or controlled more than 55 patents and applications. Click here to learn more.
________
Rogers One Number uses Counterpath software to integrate a subscriber's mobile number with with a desktop softphone that includes email and text messaging. One Number is in beta launch right now, but all indications are that Rogers intends the service to be free for all subscribers.
Counterpath has not announced the partnership yet, but some savvy tech bloggers such as Jim Courtney noticed that when setting up the beta there is a Counterpath End User License agreement, and that Norton identified the plugin as coming from Counterpath.
Independent telecom analyst Jon Arnold says although Roger's One Number sounds pedestrian, it isn't. One Number is "…very much a Web 2.0-meets mobility-meets VoIP mashup, and I think consumers will love it." says Arnold. "Most people under 30 have long moved on from a landline, and with One Number, their PC simply becomes an extension of their smartphone – you just don't need anything else. Clever, huh? If you can find a way to use Google Voice, there's no need now. Skype. Well, it's always there, but hey, if most of your everyday contacts are in your smartphone directory, it will just make more sense to call them from your PC that way, especially since those calls are largely free."
Counterpath was founded in 2002, and came to public attention in 2007 when telecom legend Terry Matthews became its Chairman, a role he maintains today. After years of building out its suite of patented softphone products such as Bria and X-Lite (which became the most popular free softphone in the world in 2009 when it reached 340,000 downloads a month) the company turned profitable in the second quarter of its fiscal 2012, reported this past December.
Shares of Counterpath closed today at $1.75.
_____
_____