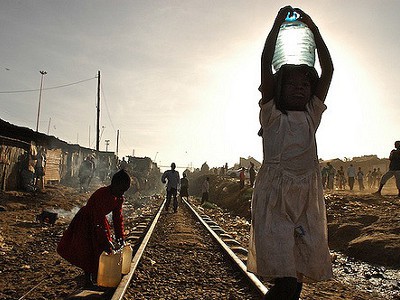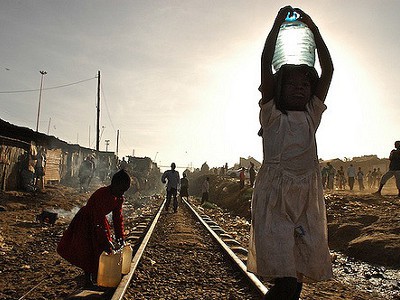 A new study
published in
Science Advances
asserts that water scarcity currently affects about 4 billion people, nearly half of whom are in China and India, putting stark new numbers on an increasingly worrisome problem.
The study, entitled "Four billion people facing severe water scarcity" was based on data taken from 1996 to 2005 and compiled by a Dutch University of Twente research team led by Mesfin Mekonnen and Arjen Hoekstra.
Previous studies had placed the number between 1.7 billion and 3.1 billion people, which was based on annual data and failed to reflect the fact that "spatial and temporal variations of water demand and availability are large, leading to water scarcity in several parts of the world during specific times of the year."
The study assesses the numbers in more granular detail, putting a finer point on other recent studies such as
the 10th World Economic Forum Insight Report for Global Risks
, which placed "water crises" in the Number 1 position for risks in terms of impact, ahead of "spread of infectious diseases", "weapons of mass destruction" and "interstate conflict".
Two
recent NASA studies
led by researchers from the University of California Irvine measuring groundwater depletion between from 2003 to 2013 found that humans are basically running short on potable water.
In Bolivia, Lake Poopó was officially declared fully evaporated as of December, driven partly by the disappearance of Andean glaciers, but also by mining and agriculture activities.
While previous studies tend to highlight Asian, Middle Eastern and African localities, this new study shows that water scarcity is a global problem when taking into account variations during the year and short-term access problems caused by drought, in addition to municipal, agricultural and industrial diversion.
"Direct victims of the overconsumption of water resources are the users themselves, who increasingly suffer from water shortages during droughts, resulting in reduced harvests and loss of income for farmers, threatening the livelihoods of whole communities," says the report. "Businesses depending on water in their operations or supply chain also face increasing risks of water shortages. Other effects include biodiversity losses, low flows hampering navigation, land subsidence, and salinization of soils and groundwater resources."
The four billion figure counts people who face water scarcity problems for at least one month per year, 130 million of whom live in the United States, mainly in Texas and California, 130 million in Bangladesh, 120 million in Pakistan, 110 million in Nigeria and 90 million in Mexico.
The study further makes clear that 1.8 to 2.9 billion people face severe water scarcity for 4-6 months of the year, while half a billion face year-round lack of water, with 180 million of that number in India.
Citing increasing world population, improving living standards, changing consumption patterns, and expansion of irrigated agriculture as the main drivers of water scarcity, the study asserts that while water scarcity problems spell problems for obvious human reasons, logistical challenges for business will likely create unpredictable outcomes.
"Meeting humanity's increasing demand for freshwater and protecting ecosystems at the same time, thus maintaining blue water footprints within maximum sustainable levels per catchment, will be one of the most difficult and important challenges of this century," says the study, adding, "It will be important that governments and companies formulate water footprint benchmarks based on best available technology and practice. Assessing the sustainability of the water footprint along the supply chain of products and disclosing relevant information will become increasingly important for investors."
A
previous study by Arjen Hoekstra
found that "the meat and dairy sectors contribute more than a quarter to the global water footprint of humanity," mainly from watering feed to raise animals.
With more detailed figures presented by this study, government and industry will have better data with which to draft policy aimed at mitigating further environmental disruption.