Mention the payments space to the average tech enthusiast and you'll get a range of current touchpoints. There's PayPal, the Elon Musk-led digital wallet that introduced your grandmother to banking without paper or plastic. There's Square, which co-founded by Twitter co-founder Jack Dorsey. And, of course, there's the ambitious undertaking that is Apple Pay.
Despite the seemingly scattered and fluid landscape, figuring out what the future of payments might look like is actually fairly simple. Modern payments will happen on any device, anywhere, anyway the consumer wants to pay. The heavy lifting in this equation? That's another story.
Turns out, a company from Vancouver might be standing tall when the dust settles on the payments space. Payfirma was founded to bring the gap between where we are and where we want to be in payments closer. Never heard of Payfirma? That's because the company prefers to work in the background, enabling others with legacy payment systems to behave as though they are a cutting edge startup. Canada's CIBC is one recent convert.
Don't like lining up to pay? No problem. Payfirma's platform can turn any retail space into The Apple Store, where every employee can process payments anywhere on the floor. That's just one example of the "frictionless commerce" founder and CEO Michael Gokturk wants to usher in. Recently, Cantech Letter sat down with Gokturk to talk about the company's ambitious plans.
Michael, can you tell me about your background?
I started in investment banking, but was hungry to pursue a venture that would inspire me more and excite me. So I decided to run some business models to see which types of industries were immune to economic cycles. It turned out the areas that were more or less recession resistant were adult services, tobacco/firearms and payments. Given those choices, payments was the logical choice! From there, I went on to found my first payments company, Versapay. What followed was rapid success, with Versapay securing the #1 spot on the Profit Hot 50 list for revenue growth. I was fortunate enough to be able to take Versapay public on the TSX, within 3 years of launching it.
Previously, merchants would have to cobble together solutions from several vendors in order to achieve multichannel capabilities.
How did Payfirma get its start?
Payfirma is the second company that I have created in the payments space. Despite my success with Versapay, I knew that my job was not done and that the market was ripe for further innovation. Payfirma, became the first company to launch mobile payments in Canada and that was the first step towards my ultimate dream of creating a multichannel payments company. We enable merchants to take payments on the go using their smartphone or tablets, but also in their stores using traditional terminals, and on their websites. Previously, merchants would have to cobble together solutions from several vendors in order to achieve multichannel capabilities. Payfirma aims to deliver frictionless commerce for our merchants and their customers.
Let's talk about this idea of frictionless commerce and multichannel payments. Starting with retail, do you expect that the convention of having a cash register and a lineup for it will slowly disappear?
Yes. Absolutely. One needs to look no further than Apple for a glimpse into the future. By introducing mobile POS in their store they obliterated the model of a checkout line. They turned every one of their staff into a roving cashier able to check people out on the spot. In fact, they replaced the concept of a cash register with a genius bar, something that people were not only willing to wait for but actually go online to book. Besides delivering a delightful customer experience they also sell more per square foot than any other retailer in North America.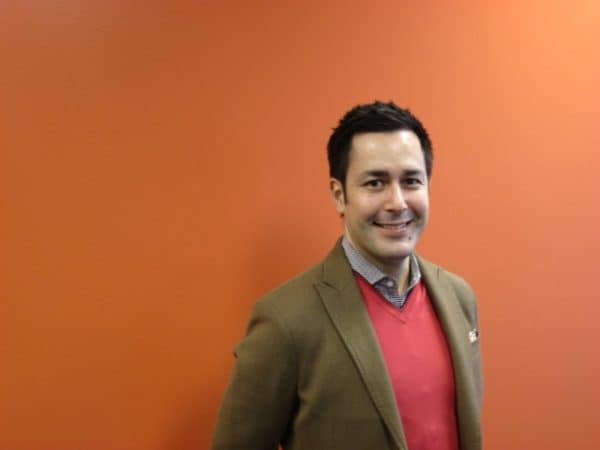 Retail is the perfect analogy for what I mean when I say frictionless commerce. Think about it, what customer wants to wait in line just to part with their hard earned money? That's why one of my business mantras is "no more lines." Waiting in line also extends to the eCommerce world. Shopping cart abandonment is a big challenge for anybody trying to deliver a good online shopping experience.
At this time, most of our merchants do not possess the technical acumen to replicate Apple's in-store experience. Payfirma's goal is to remove all of that complexity so that our merchants can maximize their performance whether it be in their physical or online store. That's why a big part of our business is educating our merchants on why embracing new payment methods is not just a good idea but vital to future proofing their business.
Is there any data say about businesses that adopt multiple sales channels, as opposed to those who don't?
Besides Apple's shining example, we know that amongst our own merchants there's a staggering difference in those embracing multichannel payments versus those who aren't. We recently compared the data of some our trades and B2B merchants. Those using 2 channels are selling over 80% more than those only taking payments on one. Our top processing merchants are the ones who have activated 4 or more payment channels and they are selling 400% more than our one channel merchants. When you add more payment channels, you are offering more ways for customers to pay and opening up your business to new selling opportunities.
Our goal is to become a natural extension of every growing business and one aspect of this is opening up our platform so merchants can instantly pull their payment data into their other systems such as accounting and CRM tools.
Let's talk about Payfirma's offerings. What part of the eCommerce world is Payfirma trying to address?
With regards to eCommerce, Payfirma specifically enables online payment processing for our merchants and it's a core part of our business. The beauty of our multichannel focus is that we easily enable the expansion into eCommerce for traditional brick and mortar merchants. Historically, if one of these merchants wanted to get into eCommerce they would have had to look for another solution provider to facilitate online payments. Since Payfirma is already a multichannel company our merchants are saved from that additional headache. Ironically, I have also had eCommerce only merchants tell me that they that chose us as their "insurance policy" for future proofing their business whether it be for multichannel or multi-currency hurdles.
You talk about "payments as a platform". What does this mean?
When I say payments as platform, I basically mean that Payfirma provides a foundation that makes it easy for merchants to add payment channels with all of their payment data coming to one place. With Payfirma, merchants are free to select the device or channel of their choice to accept payments. They can choose eCommerce, traditional terminals, smartphones or tablets with a card reader, or terminals that read NFC (near field communication). With Payfirma, all transactions from each channel are stored and pass securely through one system. Our goal is to become a natural extension of every growing business and one aspect of this is opening up our platform so merchants can instantly pull their payment data into their other systems such as accounting and CRM tools.
In the long term, "payments as a platform" will really be about making payments virtual on both the merchant and customer side. No more wallets or cards and no more hardware upgrades: commerce becomes truly frictionless.
There is a valid aspect of big data to what Payfirma does. What kind of information can a client pull on their operations using Payfirma?
Think about it. Payfirma is at the centre of massive data creation every time a customer transaction is completed. We offer a cloud based dashboard, PayHQ, that easily allows merchants to mine their transaction data. In addition, PayHQ allows for effortless visualization of the data. There are cool features like a heat map that readily communicates where their top performance occurs whether it be geography, salesperson, product time of day or any combination thereof. PayHQ's combination of data mining and visualization allows merchants to quickly glean actionable insights from their mountains of data. I'm really excited about the potential of helping our merchants mine their data and they can look forward to additional metrics and functionality to be delivered over the foreseeable future.
A frictionless purchasing experience leads to improved consumer satisfaction and increased sales for our customers.
Who are your competitors and how do you differentiate yourself from them?
We have many competitors but very few that I would consider direct competitors. Many of your readers have probably heard of companies like Stripe, Paypal or Moneris. They each specialize in different pieces of the payment pie whether that's a specific channel, sector or customer focus. None offer the full scope of multichannel solutions, user experience and consolidated data that we do. Certainly if I do my job correctly of creating brand awareness, merchants will see us as truly standing apart from those companies. With Payfirma, our merchants get multichannel and data mining functionality. By choosing Payfirma, merchants offer their customers ultimate payment convenience. But more than that, Payfirma is much more than a payments provider, we are a growth partner for our merchants.
Solutions like Square are more targeted at small businesses than Payfirma. Is this correct?
Square approaches the market differently than Payfirma. Anybody can get a Square account and start processing immediately, making them a great choice for micro merchants (think farmer's market or pop up shop). They can do this because Square is an aggregator, which means you don't need a merchant account to use them. Square assumes the responsibility for risk and your money gets processed through them. We respect what they've been able to do immensely.
Our model is different in that we only go after larger businesses, and, again, ones that are likely to be selling across more than one channel. To use Payfirma, you do need to get approved for a merchant account. The process to sign up is more rigorous on the front end, but allows you more control in the long run over your business, and for reducing the likelihood of your funds getting held or frozen. And by the way, Payfirma is diligently working to reduce "friction" in the merchant account signup process too.
We have grown used to flexibility and choice with smartphones, but sometimes those conveniences don't automatically translate to a corporate environment, do they? Solutions have to be secure and robust at the enterprise level….I guess an important distinction would be that solutions such as Square, Paypal, and Stripe are third party processors, whereas Payfirma is embedded into a client's own back end. Is this a valid distinction?
Yes, this is a correct distinction. Unlike the other solutions that you mentioned, we can offer the convenience of only having to manage one merchant account, gather data from all of these devices into one account and ultimately integrate with our client's back end systems. That's simply not possible or practical with the other guys because they do not have the visibility into the merchant's complete payments implementation.
You aren't trying to project yourself as a retail brand like these other solutions, is that correct?
Right now we are focused on other green field segments that our comprehensive solutions are enabling us to penetrate more easily. For example, trades, contractors, business services and wholesalers have traditionally relied on paper invoicing and cheques for payment. These verticals can really benefit from time saved, simplicity and efficiency that our platform offers. Their business models also make them ideal multichannel merchants as they often require the ability to take payments in the field, in their back office, and via recurring billing.
Let's talk about the future for Payfirma. What do you want to accomplish in the near future?
We have an exciting product and business roadmap that we are driving forward this year. We will be delivering improvements to PayHQ this quarter and with our core product throughout the year. Last year, we focused on nurturing and growing our invaluable relationship with CIBC. We continue to build on our momentum and will be announcing some very exciting new partnerships and markets we plan to leverage in 2015.
Equally important for myself and our customers is the work that I will be doing to improve our team. I'm a big believer in attracting and retaining the best talent possible. I'll be diligently ensuring that our existing team is developed whilst looking for opportunities to improve the depth of our roster. My dream is to build a team of "A players" that can drive hypergrowth for Payfirma and ensure a delightful experience for our customers.
What's your big goal for Payfirma? Do you have international ambitions?
My big goal for Payfirma is to deliver a global offering that enables every business in the world to seamlessly sell to anyone in the world. So yes, I have international ambitions.
Payfirma will enable any consumer to pay any business using the currency and payment type that they prefer. This creates a frictionless purchasing experience, which ultimately enables growth for our customers. A frictionless purchasing experience leads to improved consumer satisfaction and increased sales for our customers. By delivering such a versatile and comprehensive solution, merchants can adopt multichannel and choose to address as big a market as their dreams will allow. Whether it's supporting those with local or global ambitions, Payfirma will be there to scale with our customers. Everybody wins!
Have you considered going public?
My plan is to build a globally competitive company. I have always loved the public markets. For me, public markets are a fair and valuable way to finance hyper-growth on a global scale. Accordingly, when it makes sense for Payfirma and our shareholders, I will explore an IPO with the right investment banking team of course.